I'm selling a Mac Mini 1.5Ghz G4 (PowerPC) with 512Mb ram. It has a 80Gb disk in it (7200 rpm I believe, but not sure). It runs Linux like a charm, and is a perfect server (and WAY faster than a Raspberry Pi).
I believe the latest version to run was Mac OS X Tiger (10.4).
It comes with the power adapter, a DVI to VGA adapter, and in the picture below is the optional WiFi adapter.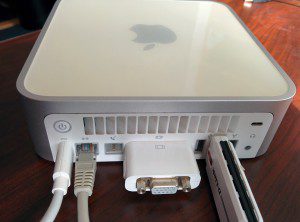 Tyr ~ # uname -a
Linux Tyr 3.2.0-4-powerpc #1 Debian 3.2.54-2 ppc GNU/Linux

Tyr ~ # free -m
total used free shared buffers cached
Mem: 500 217 283 0 11 171
-/+ buffers/cache: 34 466
Swap: 953 0 953

Tyr ~ # df -h
Filesystem Size Used Avail Use% Mounted on
rootfs 73G 882M 72G 2% /
udev 10M 0 10M 0% /dev
tmpfs 51M 212K 50M 1% /run
/dev/disk/by-uuid/bf89e3dc-6606-45e1-a87f-ab8e1be66b85 73G 882M 72G 2% /
tmpfs 5.0M 0 5.0M 0% /run/lock
tmpfs 291M 0 291M 0% /run/shm
tmpfs 251M 40M 211M 16% /var/cache/apt
tmpfs 251M 73M 179M 29% /var/lib/apt/lists
tmpfs 291M 0 291M 0% /tmp

Tyr ~ # cat /proc/cpuinfo
processor : 0
cpu : 7447A, altivec supported
clock : 1416.666661MHz
revision : 1.2 (pvr 8003 0102)
bogomips : 83.24
timebase : 41620907
platform : PowerMac
model : PowerMac10,1
machine : PowerMac10,1
motherboard : PowerMac10,1 MacRISC3 Power Macintosh
detected as : 287 (Mac mini)
pmac flags : 00000010
L2 cache : 512K unified
pmac-generation : NewWorld
Memory : 512 MB
Price: €50
Contact: [email protected]