The last (and only time) I posted a recipe here, was 7 years ago. Wow.
As we're trying to eat less meat in general, we've (Shan and I) been experimenting with vegetarian dishes.
This lasagna has been eaten by a few people now and every time the reviews are pretty damn good. 🙂 It comes rather close to the original taste while being entirely vegetarian.
First off — we're mostly just swapping out the regular minced pork/beef mix with Beyond Meat. There are other brands out there (i.e.: Omnimeat), each with their own taste — try to see what works for you.
The Beyond Beef is also slightly sweeter in taste — keep this in mind as I know some people (i.e.: my dad) wouldn't like it that sweet.
This dish feeds 3 to 4 people.
Ingredients
Good olive oil
Lasagna pasta sheets (whatever suits you, we often use the wholewheat ones)
Tomato sauce (1 to 1.5 can). Can use fresh tomato of course
80g of butter
0.5L milk
80g plain flour
Fresh basil leaves
1 (red) onion
2-3 cloves of garlic
Beyond Beef
You'll need a pinch of (sea) salt, some pepper, paprika, cayenne pepper, nutmeg and whatever else you'll want to spice it up with
I add some extra veggies: I use (1-2) fresh carrots, but these can easily be swapped out or mixed with peas, mushrooms, aubergine (eggplant), corn, etc.
Cheese! I usually use grated mozzarella cheese, but Emmental and sorts works as well
Prep work
Dice/chop up an onion
Slice the carrots (or whatever vegetable you're adding)
slice up the garlic
Wash and chop up the basil
Prepare 2 pots and an oven dish
You can let the Beyond Beef defrost, or add it as a frozen block and just let it simmer a bit longer (until entirely melted and broken down into small bits)
Pot 1: the sauce
Add olive oil to a big pot and heat up
Once hot, add in the onion and carrots and let it stir-fry for a moment. I like my carrots a bit crunchy but you could technically boil or steam them until entirely soft. Whatever you do, don't burn the onion
Once the onion gets translucent add the garlic, Beyond Beef, tomato sauce and basil
I usually add a tiny bit of milk (especially in case the tomato is a bit sour)
Stir and let it simmer on low heat. Make sure the "meat" breaks down in small bits
Spice it up (paprika, cayenne pepper, pinch of salt, (black) ground pepper)
Take a spoon and taste it. It should already be damn good. 🙂
Pot 2: béchamel sauce
This one is easy to mess up so pay attention. Clumps are bad!
Add the butter in a pot on a low heat and let melt. Do not burn the butter.
Slowly add the flour while whisking
Once the butter and flour is nicely mixed up, slowly add the milk while whisking. I usually turn off the heat at this point
Whisk, whisk and whisk
Finish it off with a bit of white pepper and nutmeg
Don't worry if you have no nutmeg — it tastes perfect without as well.
In case it's too watery, just add a bit of flour — but do that extremely slowly, as adding it at this stage will easily clump up.
Dish it up!
Now we'll create the actual lasagna. You can also pre-heat the oven now (200°).
Your dish and the lasagna will definitely not be the same size… And we don't want to have two lasagna sheets on top of each other… So gently break them off into smaller pieces, and nicely fit them together. It's puzzle time.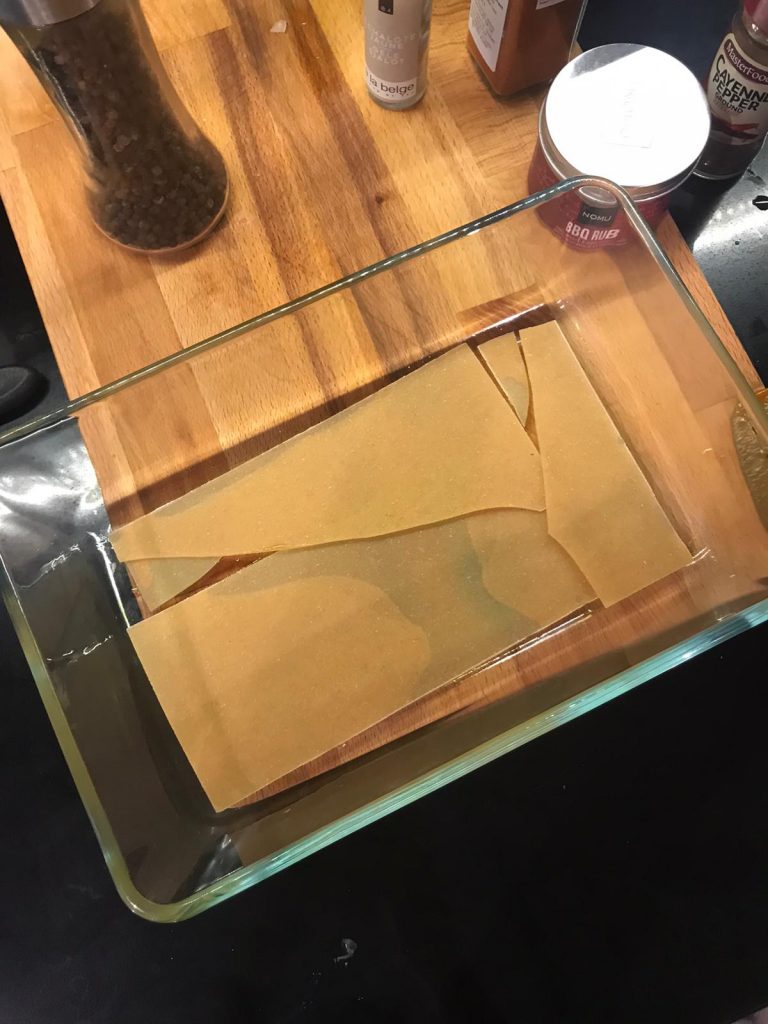 Add a thin layer of olive oil at the bottom of the pot. This prevents the lasagna sheet from sticking.
Add the lasagna sheets (see puzzle note above)
Add a layer of tomato/Beyond sauce
Add a layer of béchamel sauce
Layer up with lasagna sheets again
Rince and repeat
Most dishes fit about three layers. End with the béchamel layer. So [lasagna, tomato, béchamel] x 3.
And the last, top layer, would be the grated cheese. Don't over do it, create a nice thin layer.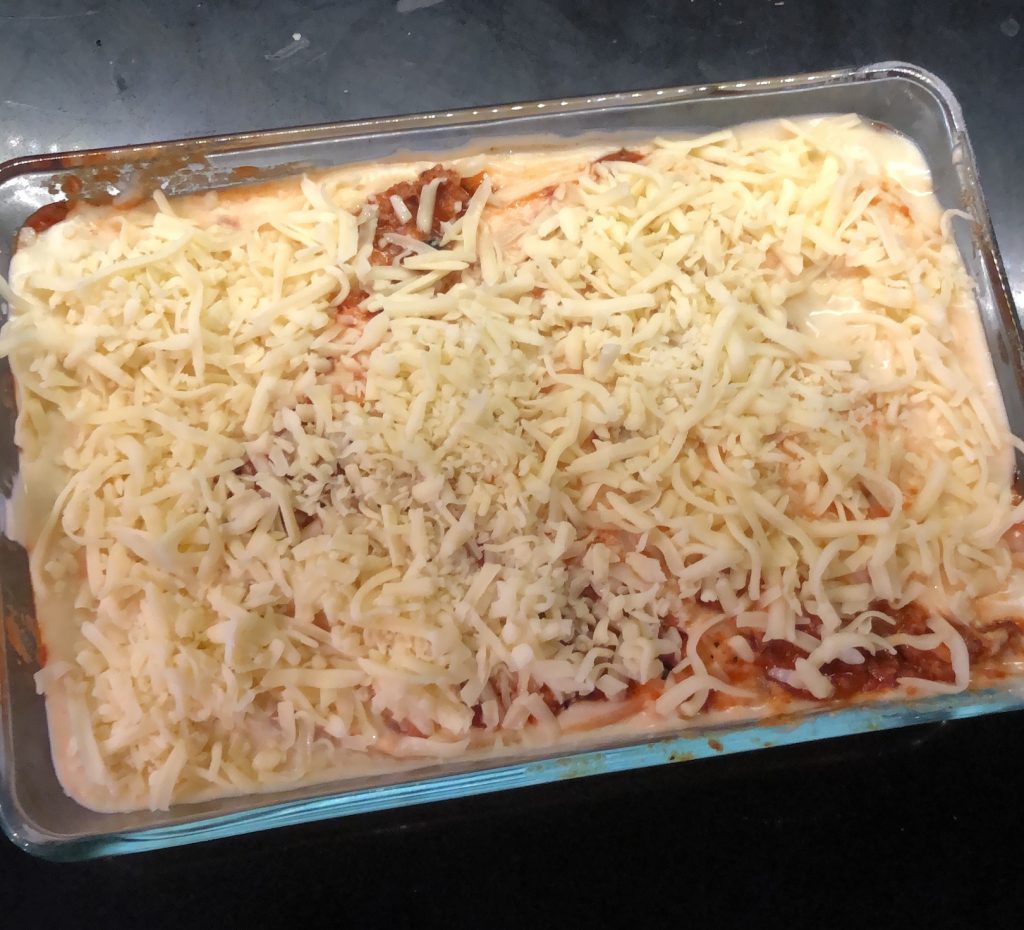 Oven
The oven should be hot (200°) at this point. The total cooking time is roughly 25 minutes.
If your oven allows to choose the baking mode, use the top and bottom heat (without fan).
Put the lasagna on top of a grill/wire mesh tray.
Set timer for ~15 minutes
Once timer is over, use a fork or skewer/satay stick to feel the pasta sheets: you want them to be soft.
At this stage they should still be a bit hard, so set timer again for 5 minutes and check again.
Take this opportunity to make sure the top layer of cheese is not burning.
Optionally: you can use the grill mode at the end of brown up the cheese, but this shouldn't be needed.
After roughly 25 minutes, the lasagna should be done.
Let it cool down a bit, cut it up and serve.