So, I had to migrate from a Pro to an Air a few weeks ago. My Macbook got repaired (out of warranty, for 600ish damn euro) and I sold it. I waited for the new line of Macbooks and ordered myself a new one. I picked the Retina version.
Just as with my previous Macbook Pro, I went for overkill in the hope to keep it as long as possible.
Except for a faulty GPU, my previous Mac was actually still very capable, and I would not have thought about getting rid of it any time soon.
It was still smooth and blazing fast. I had quite some bad experience with my first Macbook Pro (see below, SATA and 2Gb RAM); that device was already crippled after a few weeks of usage. Annoyingly slow and laggish.
So I hope to be able to do 4+ years with this one. This was my Macbook Air (with a SDD):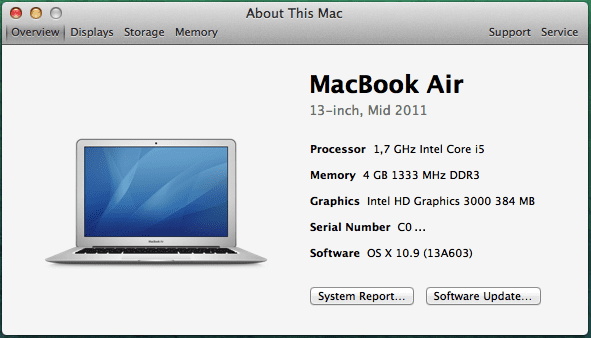 These are my frustrations/comments now that I'm back on a Pro:
FFFFFFUUUUU for not having a builtin ethernet port. Same for the Air. I have had SO much shit not having a simple ethernet port (to test UTP, and for FlatTurtle demos). It's unbelievable how much I still rely on a simple ethernet port. Needless to say I got a thunderbolt-to-ethernet adapter (another 20 or so € to Apple).
CD burner. I'll miss you. Like, twice per year, I still burn an iso to CD to boot something or to install Linux. I'll have to get a big/decent USB drive and start using that I guess.
WHY OH WHY DID YOU KILL THE REMOTE CONTROL. It already bothered me the Air didn't have it… It was very useful with VLC and watching movies. You'll be greatly missed.
It's the first time I'm on Retina. It looks better. But it seems the actual resolution is the same as the Air (WTF!) and lower than the previous Macbook Pro (WTF!).
I had the high-res MBP previously: "Optional 15.4-inch (diagonal) LED-backlit widescreen display with 1680 by 1050 pixels (glossy or antiglare)"; I miss that resolution 🙁 whenever I'm doing something on my mom's Mac I really instantly notice the huge extra room. Now I could turn off retina and go for the higher resolution but… sigh…
Next to my Air, now that I got used to the size, it looks huge.
But the more I work with it, the more I like my bigger screen and the somewhat more manly/robust size. I've also noticed I've been using my 2nd display a lot less (but this is also partly due to all that crap on my desk at the moment, and the temperature dropping in my study room with the cold weather).
Why did you have to change Magsafe adapter size. I ordered a Magsafe1 to Magsafe2 adapter from Techdata. another 7 euro (excl tax) down the drain.
It's surprisingly thin. Why did no other hardware maker beat them to it?
THANK YOU APPLE FOR STILL INCLUDING A SD CARD SLOT. Yay for Raspberry Pi and other hacking.
The case no longer slices the wrists. It has somewhat been rounded.
Bluetooth + WiFi seems bugged (random packet loss (like 20-30 packets) and/or high latency. Turning off Bluetooth insta fixes the problem. Reconnecting to WiFi also fixes it (and keeping bluetooth on). This is shit. Don't blame it on the router or signal strength, my previous MBP never had this problem, and neither did the Air.
Every connector at the left side of this Macbook Pro is too close to eachother. I have line-out, USB disk, my Mini display port and Magsafe2. Annoying when I need to just unplug the USB drive.
I managed to get 9h30 out of the battery. That's a normal person's work day (yeah, not quite in startups). And still had 17% to spare. While admittedly, I wasn't doing that much on it (60-70% brightness, Sublime Text, Terminal, Git, SSH, some very light mailing & browsing and waiting for my desktop to finish bootstrapping while watching Star Wars semi actively), it's still quite remarkable. If a i7 can do this, why can't a stupid smartphone survive a day on 3G?
When having to charge your battery though, and while sitting 'legged' with the Macbook on my lap, the Magsafe2 (having its cord not longer aligned to the laptop, and being longer) causes my Magsafe to always disconnect. I didn't have this problem with the previous Magsafe (version two of Magsafe1)
This is my new laptop: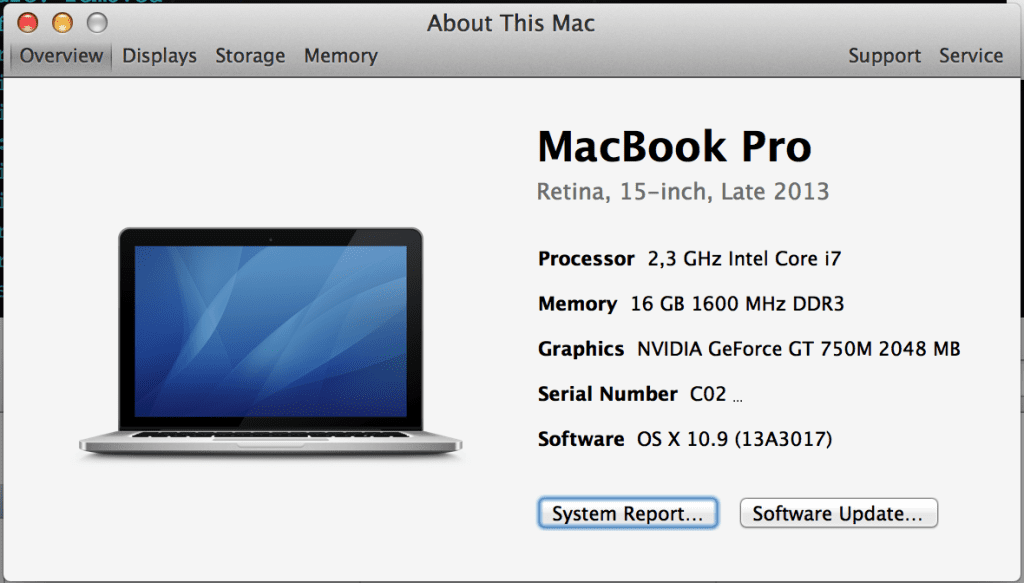 And for the sake of completion: (A G4 powerbook, but don't have any system info of that one; although it stills runs and is used by my dad).
Macbook Pro mid or late 2007 (7200 rpm, but it has always been a damn slow machine):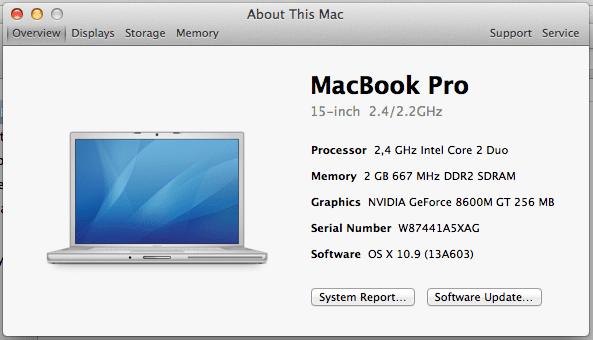 Macbook pro mid 2010 (my mom got it now):