First tests at Glaverbel (circle or "O" shaped building) in Watermael-Boisfort with 12 lifts (about a year ago). Internet wiring makes a whole circle from the internet connection at the technical room (near entrance hall). In this design from the 1960s the lift machine rooms had one shared/common room where we installed switches (to avoid having to pull too much cable and to overcome cable length issues). High quality shielded cable was used to avoid signal loss over the distances we did.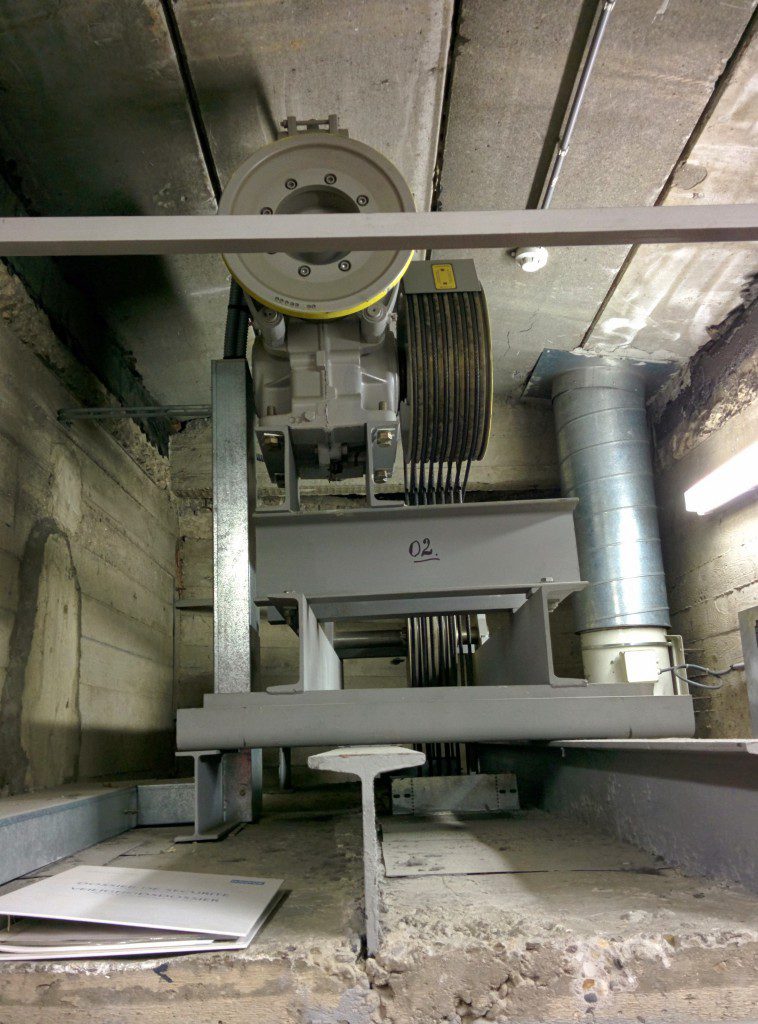 We first opted for wired internet to the cabin (TurtleBox being on top of the cabin, with HDMI to the display in the cabin — the idea was to cover the TurtleBox inside the roof/under some protection in case something would fall, and for moist and dust — this was quickly abandoned due to space & time constraints).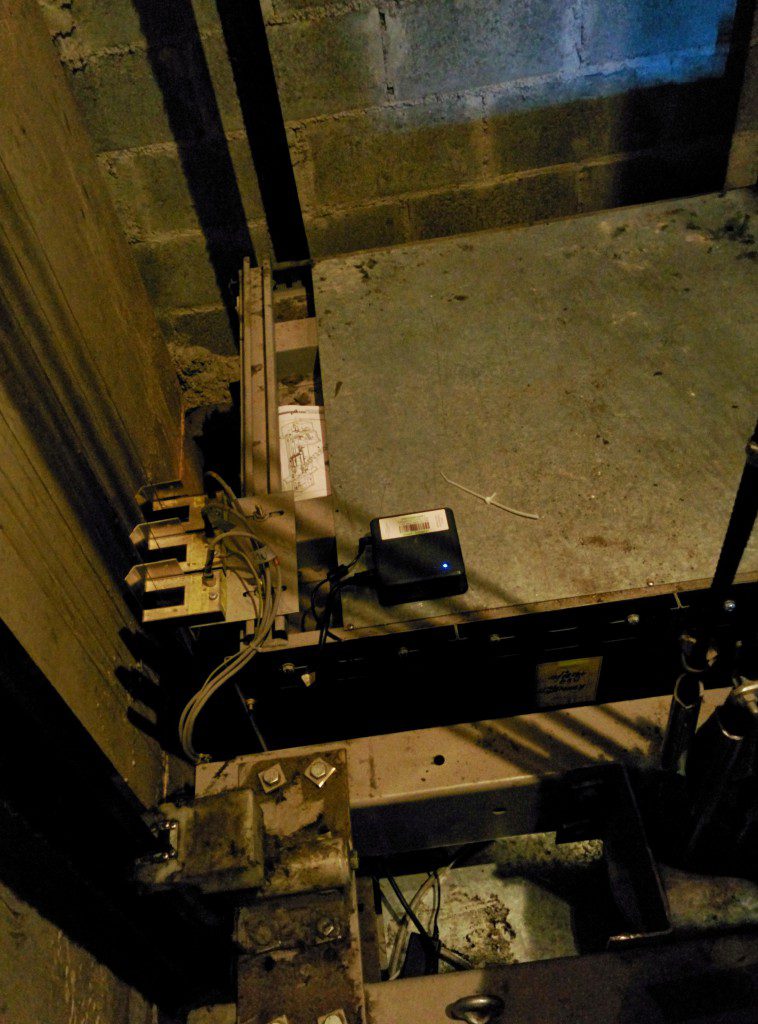 The TurtleBox in this case was again an Intel NUC (Celeron for the first two "tests", Atom afterwards due to fanless design).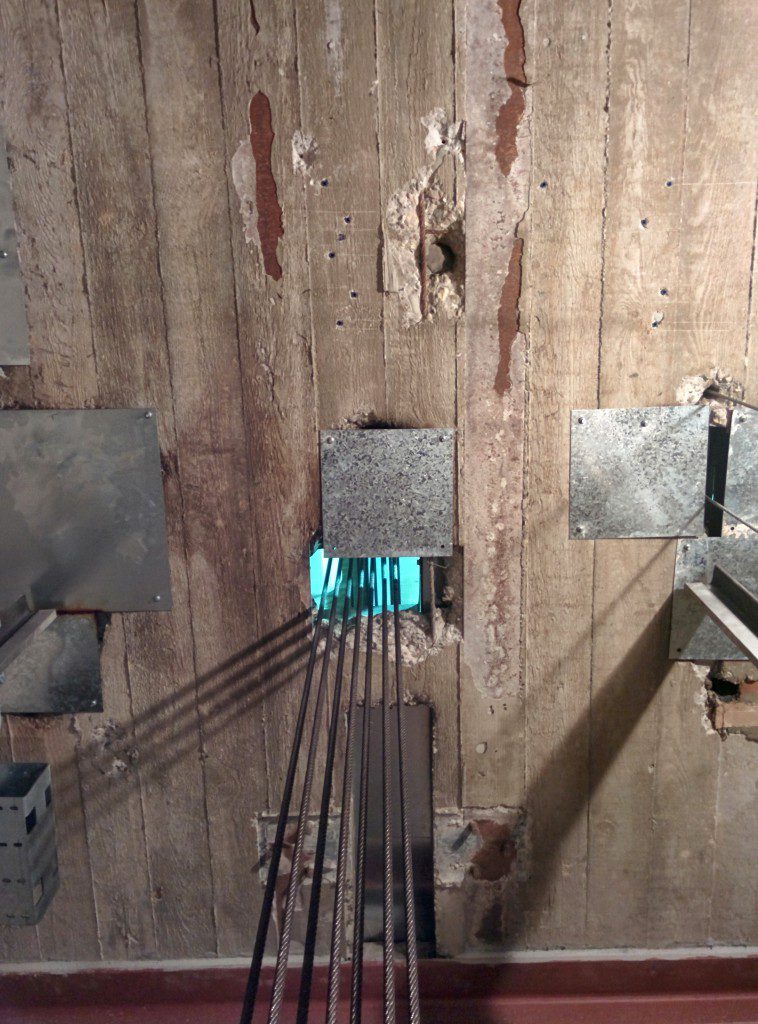 After the first initial test, wired internet was not feasible after our first two cabins:
pricing of cable (~€450)
Kone provided wrong cable (some weird color codes, not the regular STP/UTP, coating was too big for STP plugs)
Test lift one tore the cable (probably got stuck somewhere between the cabin and the wall)
In test lift two, during a controlled shut down of the lift (due to other repairs by Kone Refurbishments), Kone Emergencies got called by the customer to start up the shut downed lift (customer not being aware of the shutdown reason). Kone Services didn't recognise the new wiring as native or normal, and decided to cut down the cable.
=> So wiring is more (expensive) hassle than anything else.
We realized we didn't want to go through this mess 10 more times.
I can also tell you lifts are way less 'clean' than I would have expected.
The idea my technician (can greatly recommend him for doing an amazing, detailed & clean job) had was to try with WiFi. I was skeptic (10ish floors, lots of metal and other crap inside the shaft)… But it would definitely be cheaper and easier to maintain.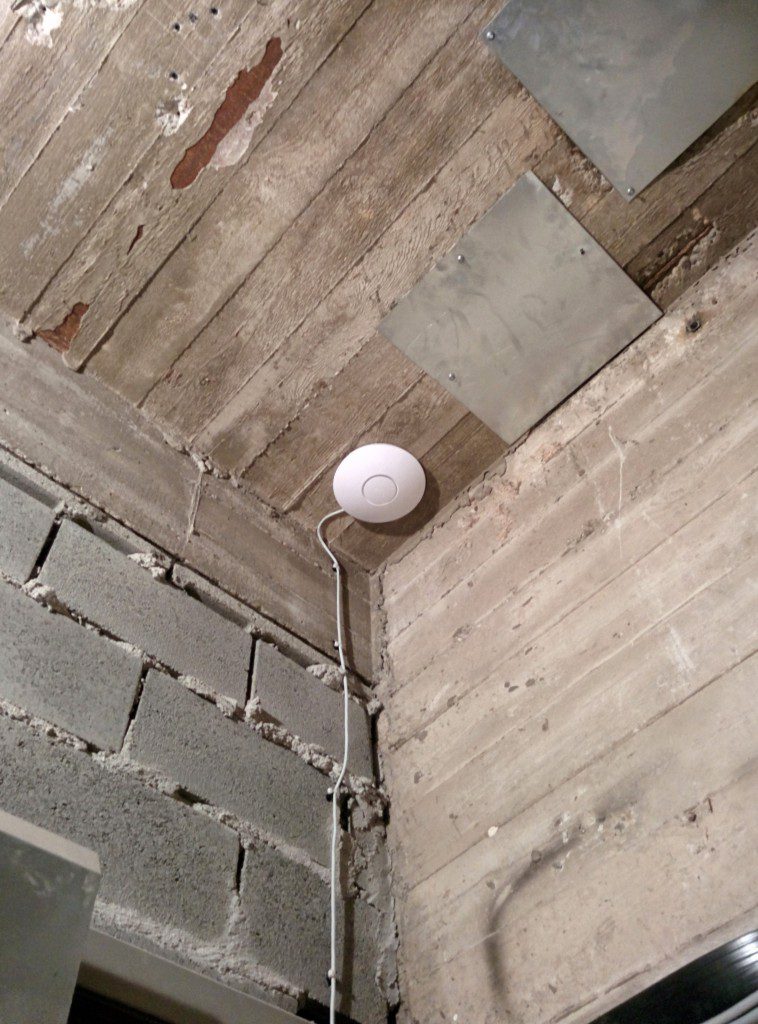 NUCs are mounted on top of the cabin for a clear line of sight. However, after testing this was deemed unnecessary and they got lowered/mounted to the side to provide additional protection.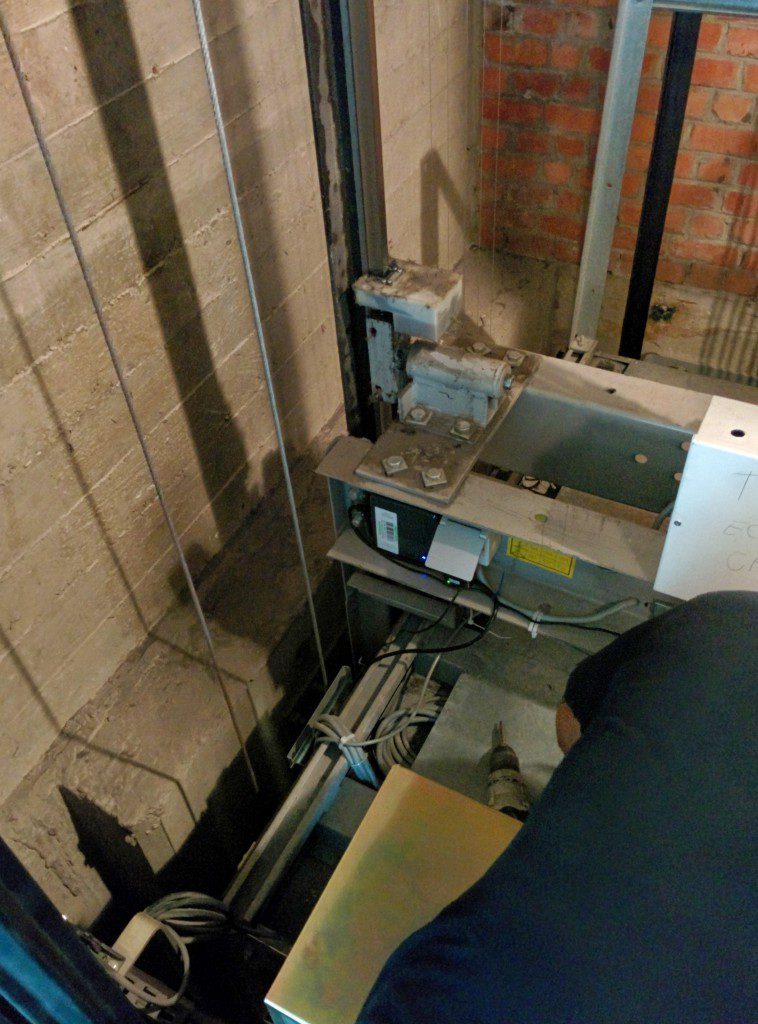 In the end, I have to say due to all the metal and concrete, signal went WAY further than I'd imagine (we could do two entirely separated shafts with one AP, just the -1 and -2 floors had troubles to have a stable signal). Signal is strong enough to have working WiFi in the (metal) lift cabin, and people working not too far from the (metal) lift doors on the floors can still use WiFi as well (albeit not with the best signal).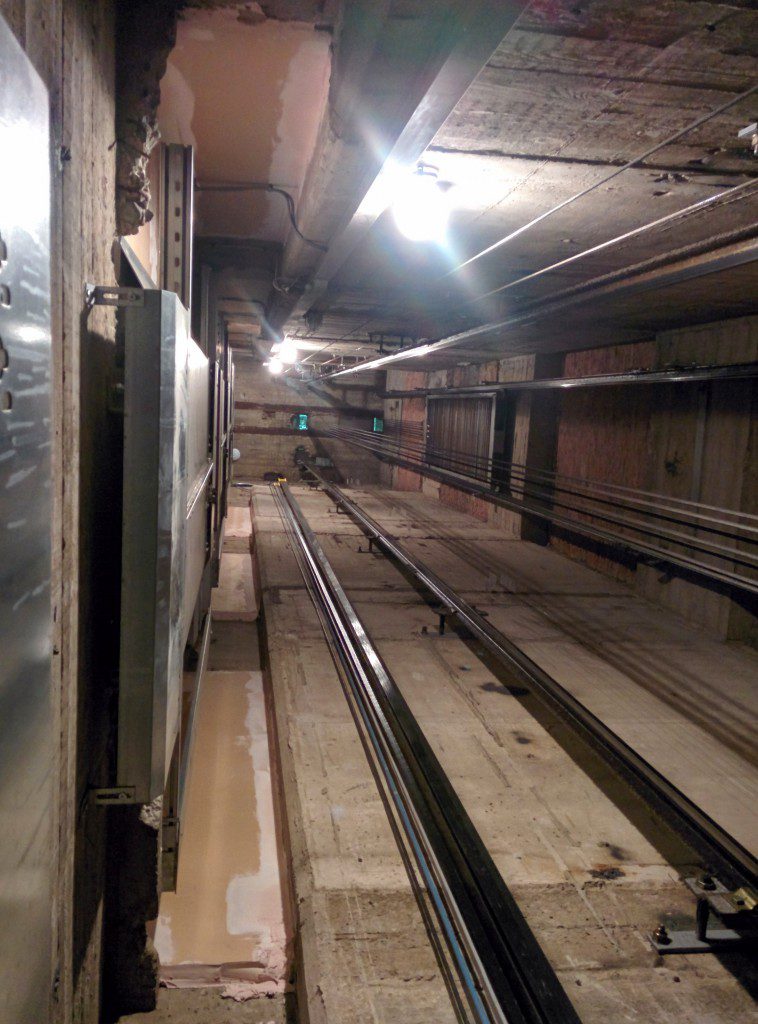 WiFi (Ubiquiti unifi, again) uses Power-over-Ethernet and remotely managed using Auki making it very easy to manage and install.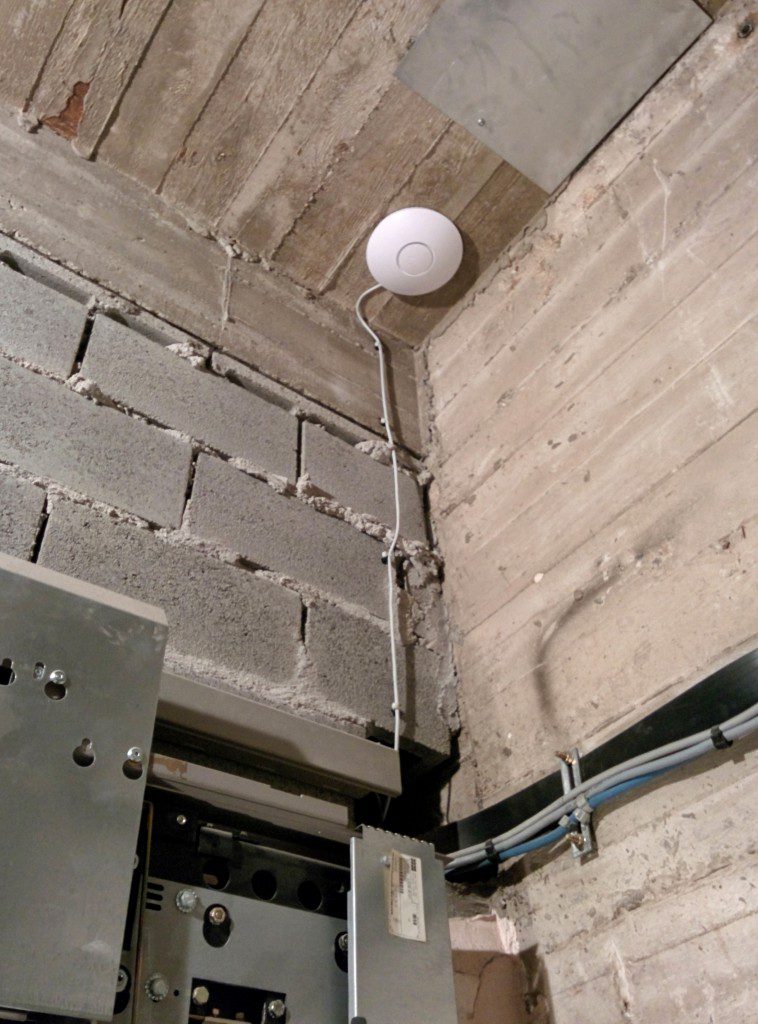 The 12 lifts now have FlatTurtle displays in them, using WiFi as internet connection… And it's working like a charm!
Oh, and on a plus side, Kone technicians (all of them) were a charm to work with, doing a great job!!
More at FlatTurtle's blog.