Today, I'm selling my genuine Salomon Snowblades (MiniMax). This is the, I believe, 3rd or 4th generation of Snowblades by Salomon. I also do not think they are still being produced, so this can be a collectors item. 😉
I haven't used them in 4-5 years, as I outgrew them and I wanted real skis again. But they've seen quite a few slopes when I was younger.
They are definitely in need of some waxing and sharpening, which would cost around ~€20 in any decent ski shop.
Ideal for reckless youngsters. 😉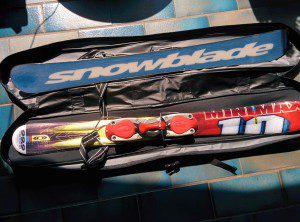 Contact: [email protected]
Price: ~€100 (discussable)
Comes with a protective/carrying bag.